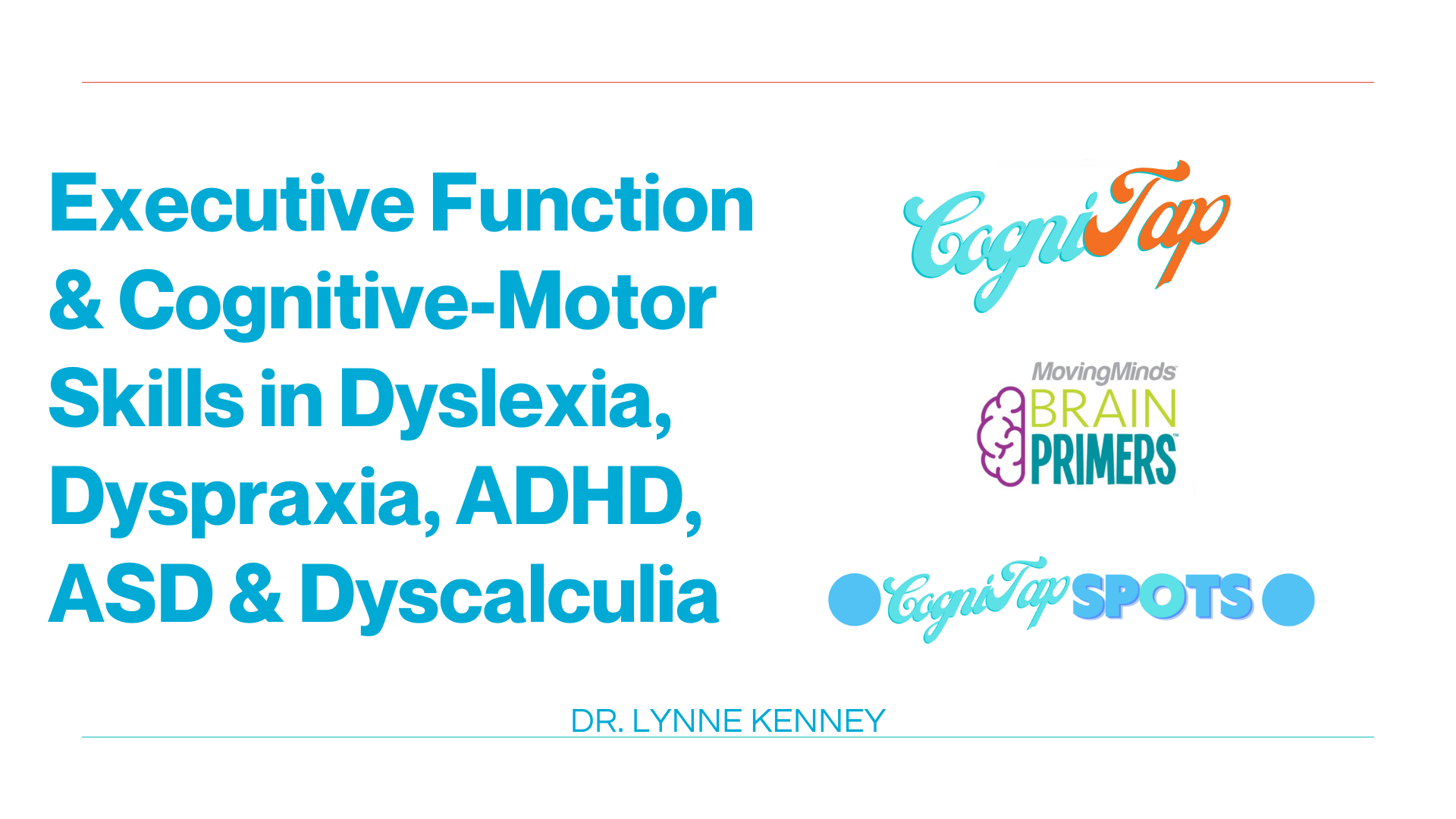 Welcome to the CogniSuite™ 4-Hour Professional Development Course online.
CogniSuite™ is the collection of cognitive-motor and cognitive-skill coaching activities Dr. Kenney developed for use with children who experience executive function challenges at school, at home, and in the clinic.
The CogniSuite™ activities have been developed through interactions with students in clinical practice and in the classroom since 2004. Currently, the CogniSuite™ consists of: Movimals, CogniTap™, CogniBalls, CogniBags, Think-Ups, Popple, Calm Me Downs, Spotlight™, and Play Math™. These activities are currently implemented 1:1, in small groups, or as a class, for 5-10 minutes at a time to prepare the brain for learning academic content, social skill lessons, and executive function strategies.
The CogniSuite™ 5-minute cognitive-motor activities stimulate Executive Functions + Balance, Beat Competency, Core Strength, Coordination, Motor Timing, Patterning, Sequencing, Processing Speed, Visual Tracking & the Vestibular System.
In This Course We Review:

What is Executive Function (EF)?
How does EF Differ from Executive Function Skills?
The relationships between sensory-motor, language, and cognitive skills in learning
What are three evidence-based ways to improve EF?
How do you know a child has executive function deficits?
What cognitive-motor activities do you implement? When and how often?
How do you track & measure progress?
Plan your steps to intervention planning and monitoring
Workshop Objectives
Review current applied neuroscience research on the importance of foundational sensory-motor, language, and cognitive skills in learning and behavior.
Learn simple cognitive coaching strategies to help students become the "Best Coaches" for their own brains.
Learn how to effectively implement brief cognitive-motor activities to prime the brain for learning before, during, or after a clinical or academic lesson or activity.
Practice the CogniSuite™ activities so that you can adapt them to your students and clients.
Receive 50+ pages of pre-publication activities, progress monitoring forms, and relevant research citations for your personal and professional use.
Click the course image below to learn more about the training.